Getting To Know F1 Mobile Racing Ch Matteo Pagliani
"I'm not really a gamer" says Matteo Pagliani. An unusual line to hear from an Esports champion…
21-year-old Pagliani struck it big when he became the very first F1 Mobile Racing Esports champion earlier in January.
"I'm not someone who has a powerful computer, or two screens. There is a lot of cost with that. I don't have a console like a PlayStation, so I have only the phone to play on.
"It feels amazing to be crowned champion", he continued. "It was completely unexpected, to see my name both on the website, and the F1 social media pages.
"I won 52 out of my 53 duels which was not easy, but I think consistency is key. I practiced about two hours every day and just got better at it, which is how a driver like Lewis Hamilton is able to win so much, being consistent."
More than 3,500 drivers qualified for the Grand Finals, which was a two-hour time window in which players had to rack up as many points as possible in duels. To fit in 53 in this space was remarkable. To win all but one? Staggering.
"The one race I didn't win was in Singapore. I was pushing hard and got a lead of about six seconds, but then I pushed too hard and I crashed into the wall.
"I would say Singapore is probably the hardest track on the game. You have to concentrate a lot because there are more than 20 corners on the circuit. I think Monza is probably the easiest, because there are only a few corners and then it's pretty much flat-out."
GOLDEN THUMBS
Pagliani is a hands-on kind of guy. Studying Computer Engineering at university near Modena, he's currently on the path to his final exams – not made easy with the ongoing pandemic. And outside of study? Drums.
"I'm a drummer, so that's my big passion in my free time. I also love to ride my bicycle, go for walks, and of course play the F1 Mobile Racing game."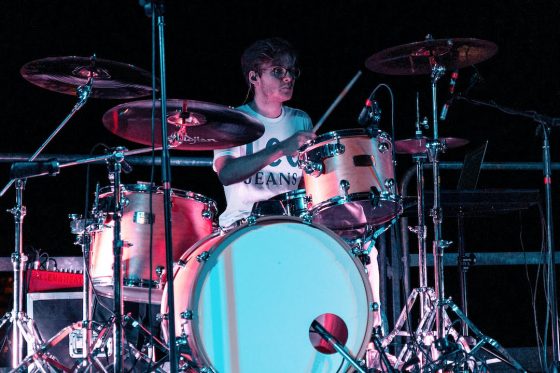 Pagliani keeps the tempo for band Stairway 66
Playing drums in a band called Stairway 66, Pagliani is not the first percussionist to show talent both in racing and drumming. ABBA drummer Slim Borgudd raced in F1 in the 1980s, even scoring a point at the 1981 British Grand Prix! Perhaps those hallmarks of hand-eye co-ordination and impeccable rhythm are some of the keys to success…
TRUE TIFOSI
All Italians have the Tifosi spirit inside them; Matteo Pagliani is no exception. The Scuderia's legendary Maranello factory is a short drive away from home, near Modena.
"Of course, my favourite team is Ferrari. It hasn't been the easiest time recently with not so many good results, but we came so close to winning the title in 2018 so I hope we can get back to that.
"For my favourite driver, as a personality I really like Seb, he's so humble and such a gentleman. And for pure driving, I think what Lewis has done is incredible. I think he will win the title again this year."
"I've loved F1 since I was about six years old when I watched it with my dad, when Michael was driving. I still love it now and I watch all the practice sessions!
ON TOUR
You can be the biggest F1 fan in the world, and still never go to a race. The worldwide pandemic unfortunately scuppered plans for Pagliani and co to visit the Red Bull Ring in 2020, which would have bene his first race.
"I was hoping to go to Austria last year, and we bought the tickets for it, but of course we couldn't due to the Coronavirus. We want to try and go again this year if there are fans, and maybe if Imola happens again we can try to go there because it's not too far from where I live.
"Out of all the races, I think Singapore would be amazing, just with everything under the lights and the city and being so close to the car."
Singapore's alluring glamour matches its challenge. With 23 corners coming at you quick-fire, it's one of the most demanding gauntlets on the calendar – something Pagliani can relate to after his one L in the Grand Final!
The 2021 F1 Mobile Racing Esports championship is a way off in the distance yet. But if you want to get up to speed and give yourself a chance, why not jump on now?
You don't need all the equipment to compete in this championship, just a phone, and the app! Download for free from The App Store or Google Play Store. There are tons of community events and in-game rewards just waiting for you! Could you be a challenger for our current champion?
The post Getting To Know F1 Mobile Racing Champ Matteo Pagliani appeared first on F1Esports News.
Read More
Gamble Now